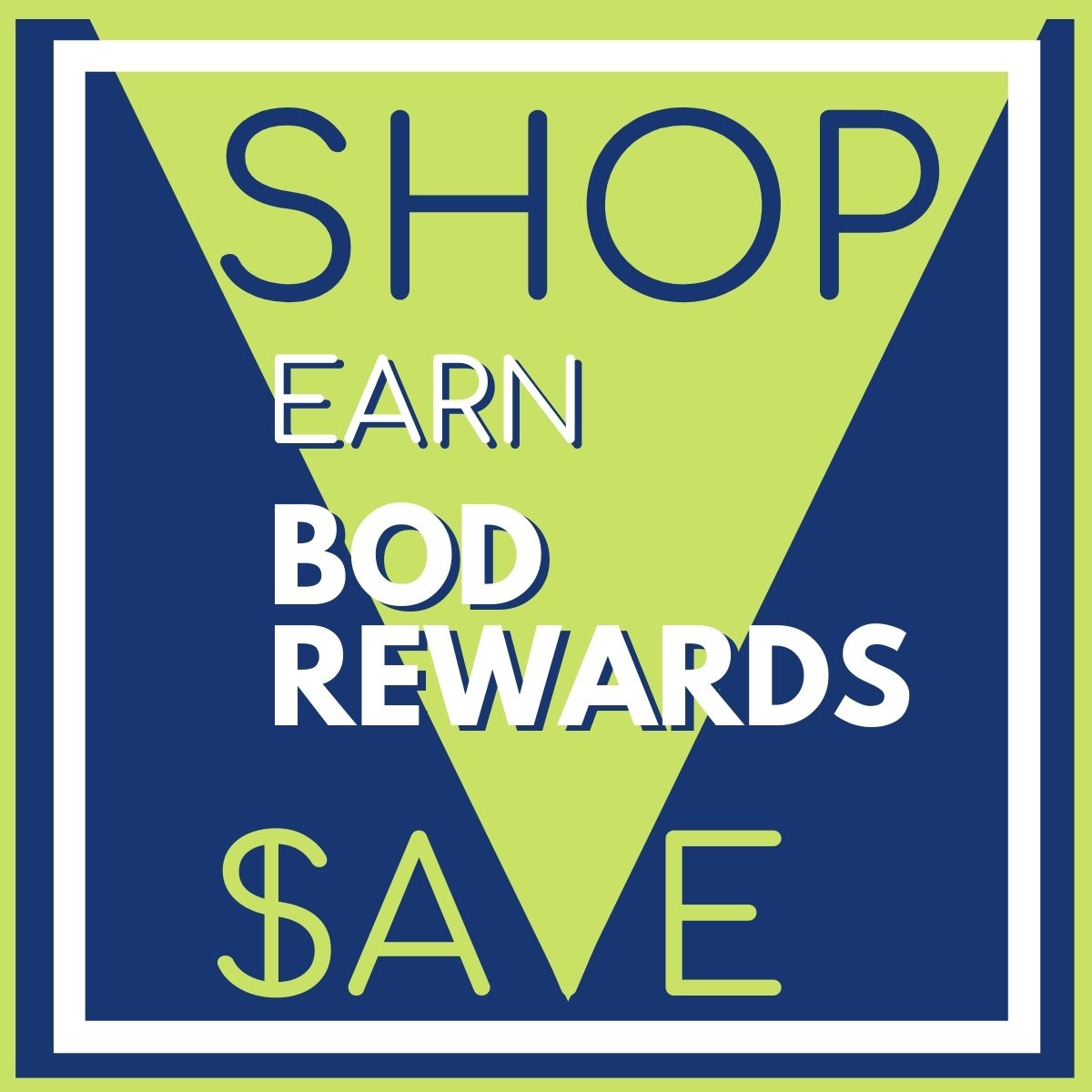 Bod Rewards are Simple
Shop, Earn Bod Rewards, Save!
We offer two levels of membership for the Bod Rewards program: Classic Membership, and Ichabuck Membership, available to customers who have spent $1,000 at the Ichabod Shop to save even more!
A few details...
Customer must give cashier WU ID (or phone number) to earn points on purchases
Savings is applied to future purchases
Points can be redeemed 30 days after earning
Points are capped at 1,000
Points expire after 1 year
Some sales and promotions may be excluded from discounts
Purchases from third-party vendors on ichabodshop.com are excluded from points and discounts (Church Hill Diploma Frames, Graduation Announcements, ShopWashburnGear.com)


Membership Level

Award Points
Classic Members:
Spend $1
Earn 1 point
Save $.02
Ichabuck Members:
Spend $1
Earn 1 point
Save $.05
Have Wooden Ichabucks?
Bring them to the Ichabod Shop to have them converted to points OR continue to use them, just like always.
1 wooden Ichabuck = $1 worth of points.
Easy to Sign Up
A cashier will help you get started. You will then finish you account set-up at ichabodshop.com.
Have a Washburn ID? You can use this for your rewards number.
Don't have a Washburn ID? You can still sign up using your phone number.
Ichabodshop.com
Enter your birthday for special discounts
How to use points
Points can be redeemed for discounts at the register or ichabodshop.com.
Terms
Bod Rewards is sponsored by the Ichabod Shop. We put the control in your hands: earn points toward a monetary discount on future transactions when you make purchases from Ichabod Shop online or in-store.
Patronage adds up: the more you spend, the more you save! Earn more points per dollar when you achieve Ichabuck Member status.
Bod Rewards Membership is open to individuals 13 years of age or older. Membership is non-transferable and subject to present and future program rules. Enrollment becomes effective and accept of these terms and conditions begins when a new Member enrolls in the Bod Rewards Program during an in-store purchase or enrolling online at ichabodshop.com.
The Ichabod Shop reserves the right to interpret and apply policies and procedures communicated in these terms and conditions. All determinations shall be final and conclusive in each case. These terms and conditions supersede all previously published terms and conditions. A member may cancel their membership at any time by notifying the Ichabod Shop by email at [email protected].
The Ichabod Shop, in its sole discretion, reserves the right to cancel individual membership. Membership status may be able to be viewed online anytime at ichabodshop.com.