Shipping Policy
Orders placed after 10 am Central Time will ship the following business day, except during high-volume periods.
Plan Ahead! Due to the high volume of textbook orders received during January and August, please allow an additional business day before your order ships or is ready for pickup.
Estimated Shipping Times
The map below shows the average shipping time for packages leaving Topeka via UPS Ground.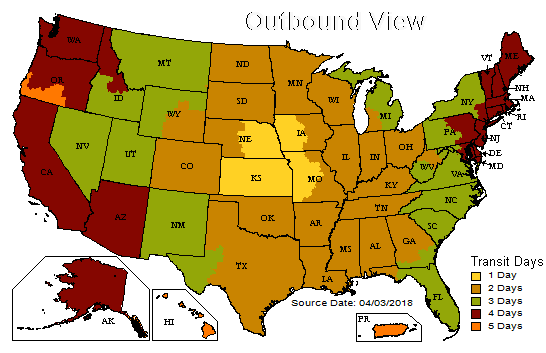 Please note: Shipping times are estimates, and are subject to changes in weather, distribution, and volume, especially during holiday periods. Service to some remote areas also may require additional delivery days.
UPS Ground can not deliver to PO Box addresses. Orders will be held at the store until we can obtain a valid shipping address, or will be shipped via USPS.
UPS Ground serves most destinations in 2-5 business days. See map above for estimated transit days.
To help protect your investment, a signature will be required for orders totaling $250 or more.
Shipping Rates
Shipping rates are as follows for domestic shipping in the continental United States.
Due to increasing shipping costs, our rates are subject to change.
Base Charge
Each Additional Item
Maximum Charge
Ground
$10.00
$2.00
$50.00
2nd Day Air
$18.00
$2.00
$50.00
Overnight
$28.00
$2.00
$50.00
In-Store Pick-up
FREE
Holiday Order Deadlines
To receive your merchandise order by December 24, please order by the dates below.
Deadline for UPS Ground Orders: Order by December 15
Deadline for UPS 2-Day: Order by December 21
Deadline for UPS Next Day: Order by December 22
We do not guarantee delivery arrival date. Orders placed after 2 pm on Dec. 22, 2022 will not be processed until Jan. 2, 2023.
Hawaii, Alaska and APO/FPO Shipping Rates
Orders shipped to Alaska, Hawaii, United States territories are subject to additional service fees.
International Shipments
Please contact the store for a quote if you wish to ship something internationally.
Customer is responsible for the shipping fees
Special Shipping Fees
Some items we carry require special handling from our carrier. These items are usually very fragile, bulky, or heavy. Items with added shipping fees include:
Diploma Frames
Laptops
Items over 18" in length or 14" x 14"
Delivery and Risk of Loss
All risk of loss shall pass to the customer upon delivery.