Washburn's Course Material Team
Here to help with Faculty Adoptions!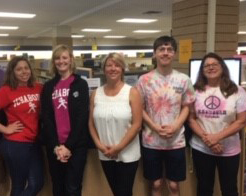 To best meet the federal mandate of HEOA (Higher Education Opportunity Act), the Ichabod Shop seeks assistance from Washburn Faculty & Staff by requesting they provide course material adoptions to the bookstore in a timely manner. The purpose is to ensure that students have access to affordable course materials by decreasing costs and enhancing transparency with respect to selection, purchase, and use of course materials.
The Ichabod Shop Course Materials department is the data owner and publisher of course material requirements

We are in a unique position: we publish adoption information in a public format that our customers use for comparison shopping with all of our competitors. Students use that information to purchase anywhere. Even if Ichabod Shop is not considered the best place for purchasing course materials, we still need the adoption information for publication.
| | Summer | Fall | Spring |
| --- | --- | --- | --- |
| Due Dates | October 1 | April 1 | October 1 |
Required disclosures needed

at the time of class registration

for course materials:
Required or recommended materials

ISBN

Retail price

Author

Title

Edition
Faculty Login for Course Material Options
Why are the adoption due dates so early?

Course material adoptions are requested and responses needed in a time frame for the required and recommended material to be published when our students are able to register for the next semester

Advanced Class Registration for Fall opens in March. Advanced Class Registration for Spring and Summer opens in October.

We need your help by submitting adoptions with these dates in mind. The dates have been chosen to give us the time to work with faculty identifying all of the resource choices and limitations available.

Adoption dates assist us in identifying textbooks that will be used in the next semester. This gives our students a better chance of being able to sell those textbooks back to Ichabod Shop at a higher rate than other vendors. That in turn lowers the cost to next semester's students on those specific materials. Our BuyBack dates are always the week of finals for the current semester.
I am not using a textbook this semester. Do I still need to submit an adoption?

Yes! A piece of publishing the Course Material requirements is also informing the students when there is NO TEXT REQUIRED
Adoption rates at the university average about 65% of all courses offered. That is possibly low because when NO TEXT is REQUIRED for a course an adoption is not submitted. We need that information for publication.
How can I help students save money on textbooks?
Again, getting the textbook information to us as early as possible can help us determine what titles we can BuyBack from students, and give us an opportunity to source out the best price in purchasing decisions.

Carefully consider Customized Textbooks: Custom books are not available used or available to buy elsewhere. Because customized books take longer to publish, students may incur delays in obtaining your textbook.

Are you using each item that comes with your textbook/bundle? If you are ordering a textbook that requires an access code, but you do not use it, please let us know! We would be happy to save your students money by sourcing the textbook only.
What if I am unable to meet the deadlines?
We recognize that there are a few situations where it may not be possible to have course materials information by these dates.

For these special situations, the Ichabod Shop is required to list the textbook information as "To Be Determined" until the information is available to us.

We will accept adoption submissions past the deadline in order to provide students with the most accurate and up-to-date information.
Please note: the number submitted in the estimated enrollment field, or number requested field does not determine the quantity of books the bookstore will purchase for your courses. The bookstore calculates the quantity of books to provide based on multiple factors, including prior year and previous semester's sales history and marketplace pricing.
For further questions and more information, contact:
Nikki Daniels, Course Materials Specialist
Phone: 785-670-1922
Email: [email protected]
Course Materials Staff
Phone: 785-670-1924
Email: [email protected]
Brielle Barrett, Director
Phone: 785-670-2157
Email:[email protected]