Course Materials
Select Course Materials
OPEN
Is currently open for viewing only. Items may Not be added to your cart.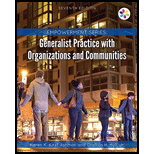 REQUIRED
GENERALIST PRAC.W/ORG.+COMMUN.
Author: KIRST-ASHMAN
Edition: 7TH 18
Published Date: 2018
ISBN: 9781305943292
Publisher: CENGAGE L
Book Notes: If your preferred condition (used / new) is not available, we will substitute with the condition that is on-hand (new / used). Prices are subject to change.
EMPOWERMENT SERIES: GENERALIST PRACTICE WITH ORGANIZATIONS AND COMMUNITIES, 7th Edition helps students understand the challenges and opportunities of macro practice and develop the competencies and component behaviors required by the Council on Social Work Education's (CSWE) latest Educational Policy and Accreditation Standards (EPAS). Authors Karen Kirst-Ashman and Grafton Hull are adept at weaving interesting cases and realistic practical examples into the main text. They emphasize the practice skills students will need to work effectively with organizations and communities - providing leadership, working with supervisors, managing conflict, working with the media, using new technologies, fundraising, grant writing, and managing stress. The text continues to emphasize the connections between working for change in organizations and communities and the skills used in other generalist practice courses. This edition is available with the MindTap online learning solution.
Is currently open for viewing only. Items may Not be added to your cart.
REQUIRED
SONIA LIVE ANNUAL LICENSE
Author: PLANET SOFTWAR
Edition: 21
Published Date: 2021
ISBN: 000000000000
Publisher: PLANET SOF
Book Notes: This is not a physical item we carry in store. Shipping charges for this item will be removed from any orders that have selected "ground shipping."