Item Count:
0
Sub-Total:
$0.00

Privacy Policy
---
Your privacy is crucial to us. At Ichabod Shop, we won't:
Ask you for information we don't need.
Share your personal information with anyone, except to comply with state and federal law, develop our products, or protect our rights.
Ichabod Shop operates www.ichabodshop.com. It is the store's policy to respect your privacy regarding any information collected in the operation of this website.


Return Policy
All refunds are issued to the original form of payment.
Course Materials
Fall and Spring Semester
Full refunds will be issued through the 1st Friday of class, with original receipt only.
Full refunds will be issued through the 2nd Friday of class, with original receipt and drop verification.
All sales are final after the 2nd Friday of classes.
Summer
Full refund will be issued through the 3rd day of class, with original receipt.
All sales are final after 3rd day of class.
Exceptions apply to the following items, which are non-refundable:
Course Packets
E-Books (once activated)
Prepackaged kits (once opened)
Access codes with the outer seal broken and/or revealing an obscured code are ineligible for return or refund.
New textbooks must be returned free of any markings, signs, or wear to qualify for a full refund. At the bookstore's discretion, the book may be credited at the USED book price.
Returning other merchandise
Clothing, gifts and supplies: Returnable for 30 days, in new condition and original packaging, with receipt.
General/Trade books: Returnable for 10 days in new condition, with receipt.
Study Aids: Returnable for 1 day in new condition, with receipt.
Technology products, SD cards, or Flash Drives: Returnable for 5 days if unopened and in new condition, with receipt.
Returns because of defect: Any defective item may be returned or exchanged with receipt.
NO RETURNS ARE ALLOWED ON CLEARANCE MERCHANDISE
Web Orders
All policies above apply
For any return or exchange of items purchased through this site, the original receipt must be presented. That receipt includes a bar code and is an 8.5 x 11" receipt packed with your order.
Your order confirmation email is not a sufficient receipt and will not be accepted.
Any Pre-Ordered textbooks not claimed by the 1st Friday of class will be refunded less a $15 restocking fee.
Web orders (not Pre-Ordered) not claimed within one week of processing will be refunded less a $15 restocking fee. This includes special orders (backorders) placed in store.
Pickup & Shipping Policy
---
Please allow 2 Business Days to process your order.
During "Rush" periods, processing your order can take up to 7 days, but we try to process all orders within 2 - 3 days.
Be sure that your billing address matches the address on your credit card.
All orders are subject to a $2 handling fee
If you choose 'Pickup at Store':

Please allow up to 2 business days
to process your order.
You will receive a separate e-mail,
with the subject line
"Your order has been processed for payment and pick-up"
to indicate your order is ready.

Fall/Spring Pre-orders are held until the first Friday of class.
Orders placed after the first day of class are held for one week after processing.
After that date your order is refunded, less a $15 restocking fee.

All orders are subject to a 2.00 handling fee.
…..
If you choose 'Ship Order':
·
Orders placed after 10:00 AM CST will ship the following business day
. Shipping times vary from 2 to 7 business days, depending on your location; for further information, please see the map below.
·
In order to help protect your investment, all shipments valued over $250 will require a signature upon delivery
.
Please consider an alternate address (
eg
: work, neighbor) if no one will be home to sign for your package.
·
Certain oversized or heavy items will be subject to additional charges. If an order must be broken up due to backordered items, each subsequent shipment will be subject to only the $2 handling fee per shipment.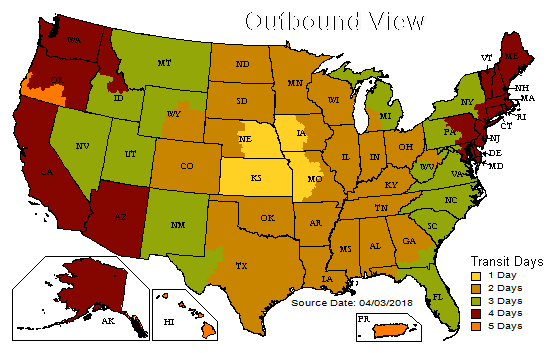 **PRICE TABLE FOR GROUND, 2
ND
DAY, OVERNIGHT HERE, OR TO THE LEFT/RIGHT OF THE MAP**
·
Shipping to APO addresses will have a flat rate via USPS; "free ship" promos do not apply.
·
Shipping to other destinations outside the United States is possible via USPS; please contact us for a quote. "Free ship" promos do not apply.
We are not able to ship to a PO Box. Please provide a physical address.


Please call 785-670-1049 for further information.

Textbook Rental Policy
---
Rented textbooks are property of Ichabod Shop and must be returned by the end of the semester for which it was rented, in reusable condition determined by the Ichabod Shop .
If you choose to rent your books, you will be required to provide your iCard number, read and sign the terms of rental agreement.
If, for any reason, your books are not returned by the rental due date, your Washburn student account will be charged the replacement cost of a new book.
Each student is responsible for any and all books rented in their name.
Books should be returned to Ichabod Shop immediately if a course is dropped, canceled, if you test out, or other schedule changes.
If you are issued an incomplete in a course, you have the option to hold the book to complete course requirements. You must contact Ichabod Shop before the designated return date to receive this special permission. This is the only exception to the designated return date.
Contact Ichabod Shop with any questions or concerns about the textbook rental program.
Textbook BuyBack Policy
---
Ichabod Shop will buy back every book we can during BuyBack period each term at the best price possible.
BuyBack occurs during finals week of the semester.
Here's how it works:
Books that will be used again for the upcoming term (already requested by the instructor) will be purchased from you at the best possible price.

The earlier during the BuyBack period you sell your books, the more likely you are to get the best price. Only the anticipated quantity needed is offered this price.

If the quantity needed for a particular book is met, or the book will not be used next term, the wholesale price will be offered, if one exists. The wholesale price is based on national demand and not set by Ichabod Shop.

Some books have no resale value and will not be purchased.

Damaged books or books in poor condition will not be purchased. This includes any book with missing pages, broken bindings, water damage or excessive writing.

Faculty, determine which books are used for classes. Faculty members are responsible for notifying Ichabod Shop of their book selections in a timely fashion. The Ichabod Shop relies on this information to determine your BuyBack price.